About Us
"As a CERTIFIED FINANCIAL PLANNERTM , I bring to a client relationship the expertise necessary to accurately address financial objectives, while still maintaining the approachability, honesty and candor expected from a friend."
Authenticity, Trust, and a Personal Connection
What Sets Us Apart
We place our financial planning and investment advisory clients' interest above our own when making and implementing recommendations.
We work with a variety of the nation's top asset management firms. Because we are not restricted to one company's particular set of financial products, our ability to provide you objective and unbiased advice is enhanced.
We are an intentionally-designed boutique practice able to offer sophisticated, unique solutions with a focus on providing a "personal touch."
We consider central to every decision in our practice two primary considerations: providing the highest level of care possible to our clients and a judicious attention to detail.
We value extensive continuing education and expertise in sophisticated financial strategies.
We are results-oriented. We will work diligently with you to implement recommendations and regularly monitor your plan's performance.
How We Engage With Clients
Every person has unique financial needs and goals. Our mission is to help each client make progress toward their ideal financial future. As you grow and your needs change, we maintain an ongoing conversation to determine how we can best benefit you. We offer three levels of service when working with clients:
Financial Empowerment ProcessSM
Our Financial Empowerment ProcessSM is a uniquely personal, comprehensive approach to financial strategies. Through a series of conversations, we learn about you, discuss your life goals, and develop a strategy tailored to your specific objectives. Then, we implement your strategy and consult with you to keep it on track.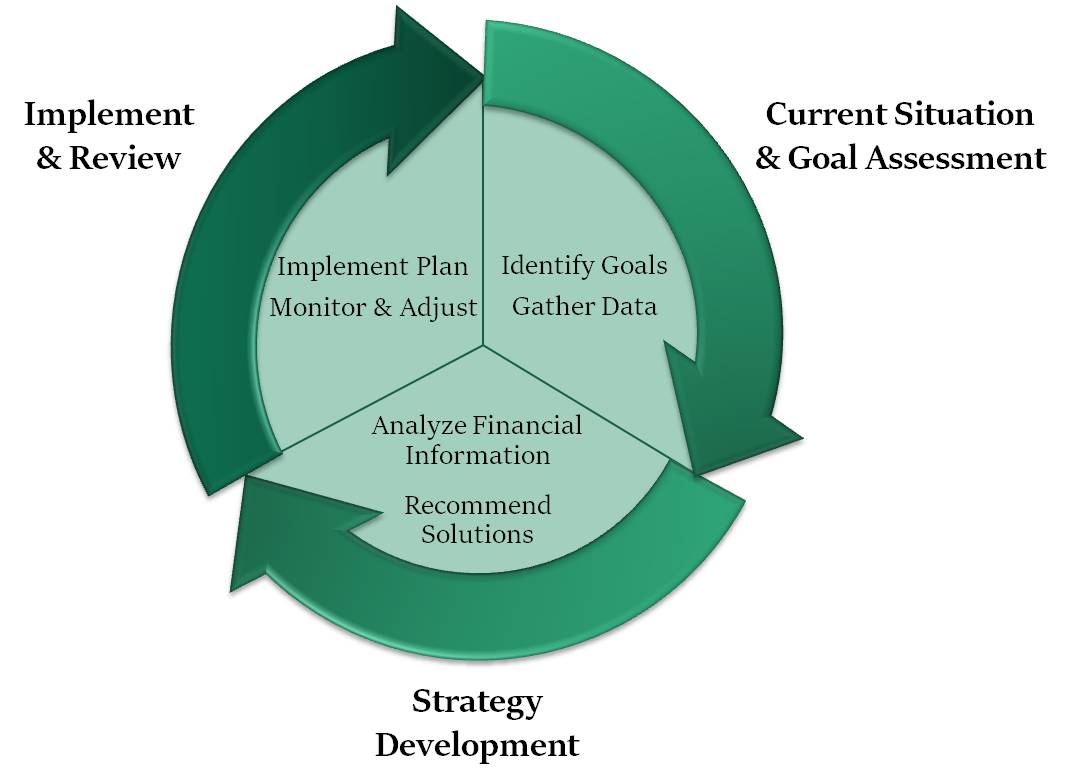 Back
Our Financial Empowerment ProcessSM is a uniquely personal, comprehensive approach to financial planning that always puts your interests first.
Current Situation & Goal Assessment
We start by learning about you—who you are, your specific wants and needs, and what it would take for you to live life to the fullest with no financial worries.
Strategy Development
With a firm understanding of your financial situation and life goals, we partner with you to develop a sound strategic approach designed to accomplish your objectives. Selected from a wide array of options, our recommendations seek to add value and improve upon your current strategy.
Implementation & Review
We work with you, as well as with your tax and legal professionals, to implement your personalized financial strategy. Then, in consultation with you, we review your progress and make adjustments as market conditions and objectives evolve.
Our Financial Empowerment ProcessSM provides you a framework to realize the future you desire and a clear view of your path forward. Then, we continue to support you with ongoing guidance to keep you on track toward a confident financial future.
Meet Our Team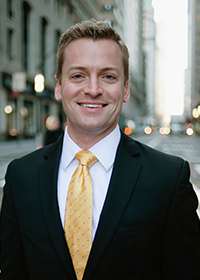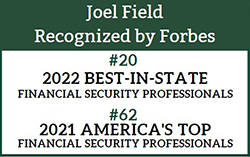 Joel Field, CFP®, CLU®, LUTCF® | Founder and Financial Planner
Joel M. Field III founded Field Financial Strategies as a boutique financial practice out of an overarching desire to help empower friends and clients to live life to its fullest and confidently pursue their goals, without worry about finances.
As a CERTIFIED FINANCIAL PLANNERTM, Joel works extensively with business owners, professionals, entrepreneurs, and executives around the country. Joel's trademarked Financial Empowerment ProcessSM is a comprehensive approach to developing tailored financial strategies that enable clients to work towards their financial goals. Joel is highly qualified to address the needs of clients in the areas of comprehensive financial planning, investment management, retirement planning, estate planning, insurance planning, and business planning.
Strategic Resources
As a boutique practice, Field Financial Strategies is independently owned and operated. With offices in New York City and Columbus, OH, Joel provides clients throughout the country with sophisticated financial strategies that are tailored to their unique needs. While maintaining the boutique nature of Field Financial Strategies, Joel serves his clients by leveraging the resources of a wide network curated from among the nation's top asset management and insurance firms with expertise in financial planning analytics, advanced planning needs, investment alternatives, insurance options, and asset management services.
Honors / Accomplishments
CERTIFIED FINANCIAL PLANNERTM
#20 on Forbes list of Best-In-State Top Financial Security Professionals in 2022, Read More
#62 on Forbes list of America's Top 250 Financial Security Professionals in 2021, Read More
SiriusXM radio guest speaker on financial issues for Focus Group (July 2015).
Responsible for raising over $230,000 in grants and donations to The Family Center since 2014.
Awarded the Volunteers for Good Certificate of Recognition from the New York Life Foundation for philanthropic and volunteer efforts to make a difference in the community.
Contributor to Freedom To Serve, a book which discusses the stewardship of finances. Ankney, Jonathan. Freedom to Serve. Sunnyside, NY. Small Business CFO, Inc. dba Tower Ministry Finance, 2017
Chairman's Council, President's Council, Executive Council Member with New York Life (2010-current)
Education
Joel was raised in Dublin, OH, earned a B.S. in Business Administration in Finance from the University of Louisville in 2004, and was awarded the 2004 Financial Executives International Award by Louisville's business leaders for "demonstrating outstanding performance and potential for leadership." Joel then proceeded to earn a Master of Divinity degree from Seminary at Cincinnati Christian University in 2007. Upon obtaining the Master of Divinity degree, Joel re-entered the financial field as a financial adviser to help financially educate and equip individuals for success both in the present and in the future.
Personal
In terms of community involvement, Joel was nominated and elected in 2018 to the position of Chairman of the Board of Directors of The Family Center, which is based in New York City. Joel previously served as Vice-Chairman of the Board of Directors (2016 to 2018) and has been an active member of The Family Center's Board since 2014, supporting the organization's mission to strengthen disadvantaged families affected by crisis, illness, or loss in order to create a more secure present and future for their children (www.thefamilycenter.org).
In addition, he served on the Board of Directors of the Legacy Fund of the Columbus Foundation (2011-2015), an endowment fund that focuses on serving Central Ohio (www.thelegacyfund.org).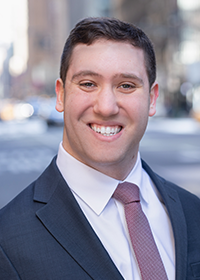 Samuel E. Strum, ChFC® | Financial Advisor
Samuel E. Strum (Sam) is a Financial Advisor on the Field Financial Strategies, LLC advisory team. As a Financial Advisor, Sam believes in empowering his clients to take ownership of their lives in pursuit of their goals and assisting them in achieving financial independence. His passion in this area developed when he worked in New York City's Broadway theater industry. Working with artists and entertainment professionals, he realized that many lacked financial literacy and sought trustworthy financial guidance. In response, Sam pivoted to a career as a financial advisor to provide financial direction to those working to achieve their financial goals. As a Financial Advisor with Field Financial Strategies, LLC, Sam works with professionals, business owners, and successful creative individuals to evaluate their current situation and design a course to help them accomplish their goals.
Strategic Resources
Sam serves his clients from around the country by leveraging the resources of a wide network developed from among the nation's top asset management and insurance firms with expertise in investment alternatives, insurance options, and asset management services.
Honors/Accomplishments
Qualifying Member Million Dollar Round Table (2020). The Million Dollar Round Table (MDRT), which is known in the industry as "The Premier Association of Financial Professionals," is recognized globally as the standard of excellence.
Since beginning his career as a financial advisor, Sam has been recognized repeatedly by organizations like New York Life, including earning membership in New York Life's prestigious Executive Council (2018 – present).
Education
Hailing from Houston, TX, Sam earned a B.A. in Plan II Honors from the University of Texas in 2014, graduating with Higher Honors and Phi Beta Kappa. The Plan II Honors degree is an advanced Liberal Arts degree in which Sam was required to write a thesis. For his thesis, Sam focused on the viability of commercial musical theater in Mainland China.
Personal
In his personal life, community involvement is very important to Sam. As an active member of the Jewish community, he serves on the Marlene Meyerson JCC's young professional board, organizing social and cultural events for the young professional Jewish community. In addition, Sam continues to be involved in musical theater, his longtime passion, as co-creator and producer of the cabaret show Broadway Goes A Cappella, and as line producer for several new musicals produced by the New York Theatre Barn. Lastly, as a passionate traveler and foodie, Sam and his fiancée love traveling and exploring different cuisines from around the world.
Lisa Misuraca | Office Manager
Lisa returned to the workforce in 2011 after starting a family to work with Financial Planner Joel Field. Currently, she is the Office Manager for Field Financial Strategies.
Lisa graduated from the Indiana University Kelley School of Business with a B.S. in Business Management and Organizations. Prior to coming to work with Field Financial Strategies, Lisa had extensive professional experience in the fields of corporate Training and Development, International Human Resources, and Recruitment.
In her personal time, Lisa is raising four children, actively volunteering in her community, and enjoys traveling, and cooking. She is a member of the Columbus Mothers of Triplets group and an involved parishioner at St. Joan of Arc Catholic Church. She enjoys supporting her four children in their various sports activities.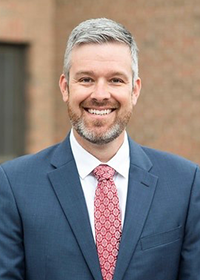 Nick Ardner | Registered Service Assistant
Nick Ardner is a Registered Service Assistant on the Field Financial Strategies, LLC team.
While born in Ohio, Nick went west to Laramie, Wyoming to study Biology with an emphasis in Molecular Genetics. Nick worked in the scientific community after graduation for almost 15 years, then transitioned into a career in financial services after seeing how insecure many people are when planning for the future.
Nick lives in Westerville, Ohio with his wife, Katrina, and his son, Frankie. Nick is an Assistant Coach at Worthington Kilbourne High School with the girls' basketball program and has been coaching in Worthington for over 14 years. In addition to family and basketball, Nick loves to play most sports, but his favorite is golf. The Ardners attend New Life Church in Gahanna where Nick volunteers in the KidzLife ministry.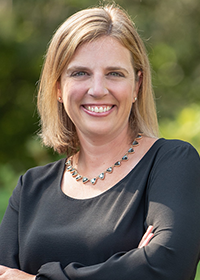 Kara Davidson | Registered Service Assistant
Kara joined Field Financial Strategies in 2017. She graduated summa cum laude from Franklin University with Bachelors in Business Administration and Management. She has experience in management, office administration, human resources, and the retail industry.
Kara is married with three daughters and can be found on the sidelines of a soccer field or basketball court almost every weekend. Dancing, mowing the grass and other yardwork are some of her favorite things to do. She also loves to clean and take on organizational projects, as well as to travel and explore new places. In retirement, she hopes to become a sommelier and travel Europe.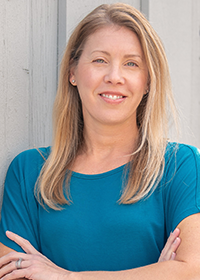 Traci Wisard | Executive Assistant
Traci joined Field Financial Strategies in the fall of 2021 after spending 20 years in the medical field focusing on education and insurance billing. She graduated with honors from Otterbein College with a degree in Organizational Communications.
A lifelong resident of Central Ohio, Traci loves being in the heart of it all and raising her two daughters with her husband, Jeff. If she's not in a gymnasium or auditorium watching her girls, Traci enjoys reading in the hammock, hanging out on a patio with family and friends, volunteering with a local foster child organization and saddling up a horse as often as life allows.
Recognized by Forbes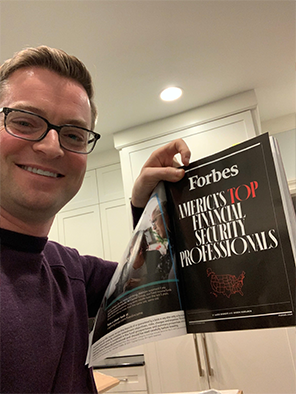 #62 on Forbes List of Top 250 Financial Security Advisors, 2021
We are honored that our Founder, Joel Field, was named on the 2021 Forbes Top Financial Security Professionals list. This list includes financial professionals who protect their client's assets through life insurance. Joel entered this industry to help his clients protect what matters most. So, to be recognized as one of only 250 professionals by Forbes validates all the work that he does for his clients. For additional details about the recognition, click here.
#20 on Forbes List of Best-In-State Financial Security Advisors, 2022
Once again recognized for excellence among peers in his profession, Joel Field was ranked by Forbes as #20 on their 2022 Best-In-State Financial Security Professionals for his work in New York City! Joel is honored to be named to this prestigious list of the top professionals in the field.
Please note, the independent research firm considered in its ranking a variety of financial products and services which not all ranked Financial Security Professionals (FSPs) may be licensed to offer. Only those products and services FSPs are licensed to offer were considered in determining any individual FSP's rank. Click here for the full methodology.
Neither SHOOK nor Forbes receives any compensation in exchange for placement on its Top Financial Security Professional (FSP) rankings (including the Best-In-State Financial Security Professional rankings), which are determined independently (see methodology). FSP refers to professionals who are properly licensed to sell life insurance and annuities. FSPs may also hold other credentials and licenses which would allow them to offer investments and securities products through those licenses. The ranking algorithm is based on qualitative measures learned through telephone, virtual and in-person interviews to measure best practices, client retention, industry experience, credentials, review of compliance records, firm nominations; and quantitative criteria, such as assets under management, sales figures, and revenue generated for their firms. Investment performance is not a criterion because client objectives and risk tolerances vary, and these professionals rarely have audited performance reports. Individuals must carefully choose the right FSP for their own situation and perform their own due diligence. SHOOK's research and rankings provide opinions intended to help individuals choose the right FSP and are not indicative of future performance or representative of any one client's experience. Past performance is not an indication of future results. For more information, please see www.SHOOKresearch.com. SHOOK is a registered trademark of SHOOK Research, LLC.
Our Advanced Planning Resource
The Nautilus Group® is an exclusive resource accessible to Member Agents working with affluent, high net worth and business owner clients. Nautilus provides a range of consultative services and technical case design to support its Member Agents in presenting estate, business, charitable, insurance and retirement strategies to their clients and their clients' advisors in these key areas: Family Protection, Estate and Legacy Planning, Business Succession and Exit Planning, Executive Benefits, and Philanthropy.
Since every client has unique requirements, The Nautilus Group® staff and its Member Agents employ an individualized case development strategy, working on a team basis with the clients' professional advisors.
Member Agents of The Nautilus Group®, through their expertise and commitment to this team approach, can provide resources, services and solutions that help their clients work with their own professional advisors to attain clarity on their financial situation and also help achieve their business and estate planning objectives.
This consultative process fosters an understanding between the client, the Nautilus Member Agent, and the client's circle of advisors. Working hand in hand with the Nautilus staff, Member Agents present their clients with state-of-the-art planning strategies and customized case analyses designed to meet the clients' complex objectives. The one-on-one case design process used by Nautilus is tailored to the unique requirements of each client, achieving a better understanding of the complex needs and goals of each individual.
The Nautilus Group® is located in Dallas, TX and is staffed by an elite team of professionals experienced in law, taxation, accounting, business, insurance, finance and philanthropic planning. This team provides dedicated support for Nautilus Member Agents, an elite group of experienced insurance and financial industry leaders, firmly committed to a team planning concept.
The Nautilus Group® is a service of New York Life Insurance Company. Neither The Nautilus Group®, its member agents, nor its staff provide tax, legal or accounting advice. Clients are urged to seek the advice of their own professional advisors before implementing any planning strategies.
Our Values
Integrity We walk our talk.

Honesty We are forthright and transparent.

Continual Education We strive to always be learning, growing and improving.
Humanity We sincerely care about people and value their wellbeing.

Thoroughness We strive to make sure we do not leave a stone unturned and pay close attention to detail.
Our Mission
Our mission is to empower you to live life to the fullest and confidently pursue your goals, worry-free about your finances.
Our Objective
Our objective is to build with you a strong lifelong client/adviser relationship, in which we both are committed to working toward accomplishing your goals and objectives.
Your interest is always upheld as the foremost concern.
Our Focus
We advise highly successful professionals, business owners, and physicians around the country on the unique opportunities and challenges created by their success.
To address the multifaceted needs of our clients, we invest significant time and resources cultivating the expertise demanded by complex financial situations.
Like many of our clients, you may be creating wealth at this stage in your life. Or, you may be seeking to preserve what you have built. Whatever your objective, we will invest the time needed to cultivate a deep understanding of your needs and partner with you to develop and implement strategies to confidently accomplish your goals.
Our Inspiration
We are inspired by our desire to people life to its fullest, unbridled by finances.
We pride ourselves on:
Cultivating deep, meaningful relationships with our clients.
Providing the finest advisory services.
Delivering precision and a superior client experience.
Level I: Defined Engagements
Some clients come to us with objectives that have clearly defined parameters and do not require a more comprehensive financial planning engagement. If you are looking to do something like roll over an account, establish a college fund, or set up life insurance, we do not need to charge a fee for a comprehensive analysis and financial plan. All we ask is that you keep us in mind if you know others who may benefit from our expertise. We are a referral-based business and we will strive to offer you, like all of our clients, a level of service and attention that encourages you to refer us to others.
Level II: Comprehensive Financial Planning
Our financial planning clients are professionals and families who want to make sure they are on the right track for the future. When we work with you at this level, we consider the "bigger picture" of your financial world—your existing planning already in place, your retirement plan, income protection strategies, tax mitigation, insurance protections, and other aspects of your financial picture that affect your ultimate goals. With a firm understanding of your financial situation and life goals, we develop a comprehensive financial plan designed to set you on the right path to accomplish your goals and, then, are available to assist you in implementing the recommendations if you should so choose.
Level III: Private Client Services
For clients who need a more robust level of ongoing planning, we offer continuous guidance, monitoring, and regular updates to your financial plan. Clients at this level have more complex wealth management needs—they might own a business, have substantial assets, or be navigating a situation that requires in-depth guidance, like the sale of a business or management of a large estate. Our Private Client Service includes annual updates to your financial plan, in addition to consistent monitoring and maintenance throughout the year, to ensure your financial world is always optimized according to your goals. We like to compare your financial plan to a road map. An up-to-date map will keep you on the right track for the whole journey, but if you use an out-of-date guide, you might not have a clear direction when it comes time to take a detour or navigate specific details. For that reason, we help you update your plan periodically as you grow and your life changes.