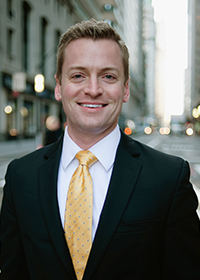 Joel Field, CFP®, CLU®, LUTCF® | Founder & Financial Planner
Joel M. Field III founded Field Financial Strategies as a boutique practice offering financial planning through Eagle Strategies LLC. His overarching desire is to help empower friends and clients to live life to its fullest and confidently pursue their goals, without worry about finances.
Joel works extensively with business owners, professionals with advanced degrees, entrepreneurs, and executives around the country. As a Certified Financial PlannerTM, Joel is highly qualified in addressing the needs of his clients in the following financial areas: comprehensive financial planning, investment management, retirement planning, estate planning, insurance planning, and business planning.
Joel has been recognized repeatedly over the years for his practice's growth and success by a number of organizations including the Million Dollar Round Table, New York Life, and Eagle Strategies LLC.
Joel was raised in Dublin, OH, earned a B.S. in Business Administration in Finance from the University of Louisville in 2004, and was awarded the 2004 Financial Executives International Award for "demonstrating outstanding performance and potential for leadership." Joel, then, proceeded to earn a Master of Divinity degree from Seminary at Cincinnati Christian University in 2007. Upon obtaining the Master of Divinity degree, Joel re-entered the financial field as a financial adviser to help financially educate and equip individuals for success both in the present and in the future.
Joel currently serves on the Board of Directors for The Family Center, which is based in New York City, and works to strengthen disadvantaged families affected by crisis, illness, or loss in order to create a more secure present and future for their children (www.thefamilycenter.org, 2014-current). In addition, he previously served on the Board of Directors of the Legacy Fund of the Columbus Foundation, an endowment fund that focuses on serving Central Ohio (www.thelegacyfund.org, 2010-2015).
In his free time, Joel enjoys reading, traveling, painting, spending time with his family, and playing backgammon.
Honors / Accomplishments
- Certified Financial PlannerTM
- Qualifying Member Million Dollar Round Table (2013-current).
The Million Dollar Round Table (MDRT), which is known in the industry as "The Premier Association of Financial Professionals," is recognized globally as the standard of excellence.
- President's Council and Executive Council Member with New York Life (2010-current).
- Articles about Joel Field published on New York Life's national website highlighting Joel's work with clients (2012-Present).
- SiriusXM radio guest speaker on financial issues for Focus Group (July 2015).
Community Involvement
- Vice Chairman of the Board of Directors, The Family Center, Brooklyn, NY (2016-Present).
- Board Member, The Family Center, Brooklyn, NY (July 2014-Present).
- Board Member, The Legacy Fund of the Columbus Foundation, (2011 - 2015).
Lisa Misuraca | Office Manager
Lisa returned to the workforce in 2011 after starting a family to work with Financial Planner Joel Field. Currently, she is the Office Manager for Field Financial Strategies.
Lisa graduated from the Indiana University Kelley School of Business with a B.S. in Business Management and Organizations. Prior to coming to work with Field Financial Strategies, Lisa had extensive professional experience in the fields of corporate Training and Development, International Human Resources, and Recruitment.
In her personal time, Lisa is raising four children, actively volunteering in her community, and enjoys traveling, and cooking. She is a member of the Columbus Mothers of Triplets group and an involved a parishioner at St. Joan of Arc Catholic Church. She enjoys supporting her four children in their various sports activities.
Kara Davidson | Licensed Servicing Assistant
Kara joined Field Financial Strategies in 2017. She graduated summa cum laude from Franklin University with Bachelors in Business Administration and Management. She has experience in management, office administration, human resources, and the retail industry.
Kara is married with three daughters and can be found on the sidelines of a soccer field or basketball court almost every weekend. Dancing, mowing the grass and other yardwork are some of her favorite things to do. She also loves to clean and take on organizational projects, as well as to travel and explore new places. In retirement, she hopes to become a sommelier and travel Europe.